Analytical study of Engineering Sports Person Personality (Extrovert / Introversion) and Socio-Economic status
Keywords:
Personality, Extroversion, Introversion, Sports person, Athletics, Badmintion, Basketball Kabaddi, Socio-economic
Abstract
The study examined the relationships between Sports persons' socioeconomic status, and drive for achievement. One hundred one (101) sports persons were chosen at random from the engineering institutes at Punjab. The primary goals of the study were to examine the associations between sports engineering students' socioeconomic level and their Personality (Exroversion/Introversion) Techniques:  Eysenck Personality Inventory test and Rajbir Singh, Radhey Shyam, and Satish Kumar Socioeconomic Status Scale were used to measure their socioeconomic status.  Conclusion: According to Chi-square analysis, there is no significant difference between the relationship of Personality (Extroversion/Introversion) and socioeconomic status of engineering Sports students. At the.05 threshold, the significant connection was determined.
References
Anne Testing, New York: Anastasi, (1966), Psychological The Macmillan Company, p.528.
Bryant J.Cratty, (1967), Social Dimensions of Physical Education Englewood Cliffs, N.J: Prentice Hall Inc., p.7.
Donnelly, P., & Harvey, J. (2001). Class and Gender Interactions in Sports and Physical Activity: Sports and Gender in Canada, cited by Jay Coakley. Sport in Society: Issues andControversies. Boston: Mc. Grew Hill Higher Education, 288, 40-64.
Mandeep Singh Nathial, Analysis of set shot in basketball in relation with time to perform the course and displacement of center of gravity, American Journal of Sports Science, Vol.2 Issue.5 pp: 122-126 (2014). Retrieved from https://www.sciencepublishinggroup.com/journal/paperinfo.aspx?journalid=155&doi=10.11648/j.ajss.20140205.13
Mandeep Singh (2010). Evaluation And Improvement Of Sports Techniques Through Biomechanical Updated Analyzing Technology, University News, Journal of Higher Education Association of Indian Universities, Association of Indian Universities, Vol:48:Issue.05;2010 Pp45-57, 2010
Mandeep Singh Nathial, A Study of Adjustment and Emotional Intelligence of University Coaches in India, American Journal of Applied Psychology. Volume 3, Issue 6, November 2014 , pp. 122-126. doi: 10.11648/j.ajap.20140306.11
Nathial, Mandeep Singh. A COMPARATIVE AND ANALYTICAL STUDY OF SELF-ESTEEM AND JOB SATISFACTION IN ATHLETES AND NON ATHLETES. Journal of Advances in Social Science and Humanities, 2(10).https://doi.org/10.15520/jassh210123
Singh, M., Kour, R., & Kour, A.,. A collaborative diversified investigation of respective responses of sports person coaches and organizations on criminalization of doping.International Journal of Health Sciences,6(S3), 11295–11310. https://doi.org/10.53730/ijhs.v6nS3.8641
Mandeep Singh., Assessment of Vocational Interests of Pahadi&Bakarwal School Students In Relation To Their Gender. Int J Recent Sci Res. 9(3), pp. 24817-24819. DOI: http://dx.doi.org/10.24327/ijrsr.2018.0903.1731
Dr. Mandeep Singh, 2017. "A study of awareness of inhouse doping errors among national level players and sports administrators in J&K state of India", International Journal of Current Research, 9, (01), 45226-45227. http://www.journalcra.com/sites/default/files/issue-pdf/20036.pdf
Mandeep Singh, 2019; "Effect of Mobile Screen Psychomotor Digital Image Motivators in Person Technique in Reducing Anxiety Level of Intervarsity Players of Cluster University Jammu, Blue Eyes Intelligence Engineering and Sciences Publication (BEIESP). Volume-9 Issue-1, October 2019, PP: 3750-3752, DOI: 10.35940/ijeat.A9811.109119. https://www.ijeat.org/portfolio-item/A9811109119/
Jindal S. K., (1983), Security-Insecurity, Adjustment Socio-Economic Status and Family Structures as the Predictors of Academic Achievement of Intermediate Students. Indian Educational Review18 p.58
SINGH SIDHU, A., & SINGH, M. (2022). KINEMATICAL ANALYSIS OF HURDLE CLEARANCE TECHNIQUE IN 110M HURDLE RACE. International Journal of Behavioral Social and Movement Sciences, 4(2), 28–35. Retrieved from https://ijobsms.org/index.php/ijobsms/article/view/267
Singh, A., & Singh , D. M. (2013). PROMOTION OF RESEARCH CULTURE –ENHANCING QUALITY IN HIGHER EDUCATION. International Journal of Behavioral Social and Movement Sciences, 2(2), 202–208. Retrieved from https://ijobsms.org/index.php/ijobsms/article/view/152
SINGH, M., & SINGH SIDHU, A. (2016). A COMPARATIVE STUDY OF BODY COMPOSITION AND RELATIVE HEALTH STATUS AMONG RESIDENT AND NON-RESIDENT STUDENTS IN DIFFERENT SCHOOLS OF J&K. International Journal of Behavioral Social and Movement Sciences, 5(3), 08–13. Retrieved from https://ijobsms.org/index.php/ijobsms/article/view/320
Singh Nathial, D. M. (2012). ANALYZING THE CREDIT BASED SYSTEM IN PHYSICAL EDUCATION. International Journal of Behavioral Social and Movement Sciences, 1(3), 172–176. Retrieved from https://ijobsms.org/index.php/ijobsms/article/view/37
SHARMA, N. P., & SINGH, M. (2014). SENIOR AGE GROUP RELATIVE EXERCISES AND IMPACT ON THEIR LIFESTYLE. International Journal of Behavioral Social and Movement Sciences, 3(04), 78–82. Retrieved from https://ijobsms.org/index.php/ijobsms/article/view/246
CHAND PURI, P., MISHRA, P., JHAJHARIA, B., & SINGH, M. (2014). COORDINATIVE ABILITIES OF VOLLEYBALL IN DIFFERENT AGE GROUPS: A COMPARATIVE STUDY. International Journal of Behavioral Social and Movement Sciences, 3(3), 56–68. Retrieved from https://ijobsms.org/index.php/ijobsms/article/view/228
Keith F. Bell, (1983), Championship thinking, "The Athletes Guide to Winning Performance in All Sports", London: Prentice Hall., p.152
Reuben B. Frost, (1971), PsychologicalConcept Applied to Physical Education and Coaching, Massachusetts, Addison Wasley, p.61
Singh, M., Kadhim, M.M., Turki Jalil, A. et al. A systematic review of the protective effects of silymarin/silibinin against doxorubicin-induced cardiotoxicity. Cancer Cell Int 23, 88 (2023). https://doi.org/10.1186/s12935-023-02936-4 https://cancerci.biomedcentral.com/articles/10.1186/s12935-023-02936-4
Mandeep Singh Nathial, Analysis of set shot in basketball in relation with time to perform the course and displacement of center of gravity, American Journal of Sports Science, Vol.2 Issue.5 pp: 122-126 (2014). Retrieved from https://www.sciencepublishinggroup.com/journal/paperinfo.aspx?journalid=155&doi=10.11648/j.ajss.20140205.13
Mandeep Singh (2010). Evaluation And Improvement Of Sports Techniques Through Biomechanical Updated Analyzing Technology, University News, Journal of Higher Education Association of Indian Universities, Association of Indian Universities, Vol:48:Issue.05;2010 Pp45-57, 2010
Mandeep Singh Nathial, A Study of Adjustment and Emotional Intelligence of University Coaches in India, American Journal of Applied Psychology. Volume 3, Issue 6, November 2014 , pp. 122-126. doi: 10.11648/j.ajap.20140306.11
Nathial, Mandeep Singh. A COMPARATIVE AND ANALYTICAL STUDY OF SELF-ESTEEM AND JOB SATISFACTION IN ATHLETES AND NON ATHLETES. Journal of Advances in Social Science and Humanities, 2(10).https://doi.org/10.15520/jassh210123
Singh, M., Kour, R., & Kour, A.,. A collaborative diversified investigation of respective responses of sports person coaches and organizations on criminalization of doping.International Journal of Health Sciences,6(S3), 11295–11310. https://doi.org/10.53730/ijhs.v6nS3.8641
Mandeep Singh., Assessment of Vocational Interests of Pahadi&Bakarwal School Students In Relation To Their Gender. Int J Recent Sci Res. 9(3), pp. 24817-24819. DOI: http://dx.doi.org/10.24327/ijrsr.2018.0903.1731
Dr. Mandeep Singh, 2017. "A study of awareness of inhouse doping errors among national level players and sports administrators in J&K state of India", International Journal of Current Research, 9, (01), 45226-45227. http://www.journalcra.com/sites/default/files/issue-pdf/20036.pdf
Mandeep Singh, 2019; "Effect of Mobile Screen Psychomotor Digital Image Motivators in Person Technique in Reducing Anxiety Level of Intervarsity Players of Cluster University Jammu, Blue Eyes Intelligence Engineering and Sciences Publication (BEIESP). Volume-9 Issue-1, October 2019, PP: 3750-3752, DOI: 10.35940/ijeat.A9811.109119. https://www.ijeat.org/portfolio-item/A9811109119/
Mandeep Singh. (2018). THE AWARENESS OF MOVEMENT AND FITNESS SCIENCES AMONG SCHOOL, UNDER GRADUATE AND POST GRADUATE LEVEL STUDENTS: EMPOWERING EDUCATION THROUGH PHYSICAL EDUCATION. European Journal of Physical Education and Sport Science, 4(3).https://doi.org/10.5281/zenodo.1218149
SINGH SIDHU, A., & SINGH, M. (2022). KINEMATICAL ANALYSIS OF HURDLE CLEARANCE TECHNIQUE IN 110M HURDLE RACE. International Journal of Behavioral Social and Movement Sciences, 4(2), 28–35. Retrieved from https://ijobsms.org/index.php/ijobsms/article/view/267
Singh, A., & Singh , D. M. (2013). PROMOTION OF RESEARCH CULTURE –ENHANCING QUALITY IN HIGHER EDUCATION. International Journal of Behavioral Social and Movement Sciences, 2(2), 202–208. Retrieved from https://ijobsms.org/index.php/ijobsms/article/view/152
SINGH, M., & SINGH SIDHU, A. (2016). A COMPARATIVE STUDY OF BODY COMPOSITION AND RELATIVE HEALTH STATUS AMONG RESIDENT AND NON-RESIDENT STUDENTS IN DIFFERENT SCHOOLS OF J&K. International Journal of Behavioral Social and Movement Sciences, 5(3), 08–13. Retrieved from https://ijobsms.org/index.php/ijobsms/article/view/320
Singh Nathial, D. M. (2012). ANALYZING THE CREDIT BASED SYSTEM IN PHYSICAL EDUCATION. International Journal of Behavioral Social and Movement Sciences, 1(3), 172–176. Retrieved from https://ijobsms.org/index.php/ijobsms/article/view/37
SHARMA, N. P., & SINGH, M. (2014). SENIOR AGE GROUP RELATIVE EXERCISES AND IMPACT ON THEIR LIFESTYLE. International Journal of Behavioral Social and Movement Sciences, 3(04), 78–82. Retrieved from https://ijobsms.org/index.php/ijobsms/article/view/246
CHAND PURI, P., MISHRA, P., JHAJHARIA, B., & SINGH, M. (2014). COORDINATIVE ABILITIES OF VOLLEYBALL IN DIFFERENT AGE GROUPS: A COMPARATIVE STUDY. International Journal of Behavioral Social and Movement Sciences, 3(3), 56–68. Retrieved from https://ijobsms.org/index.php/ijobsms/article/view/228
Dr.Mandeep Singh & J N Baliya, 2013; "A study of family stress among working and non-working parents", International Journal of Research in Social Sciences.Vol 2, 2. 194-201. https://indianjournals.com/ijor.aspx?target=ijor:ijrss&volume=2&issue=2&article=013
Singh, M., Kadhim, M.M., Turki Jalil, A. et al. A systematic review of the protective effects of silymarin/silibinin against doxorubicin-induced cardiotoxicity. Cancer Cell Int 23, 88 (2023). https://doi.org/10.1186/s12935-023-02936-4 https://cancerci.biomedcentral.com/articles/10.1186/s12935-023-02936-4
Mandeep Singh Nathial, Analysis of set shot in basketball in relation with time to perform the course and displacement of center of gravity, American Journal of Sports Science, Vol.2 Issue.5 pp: 122-126 (2014). Retrieved from https://www.sciencepublishinggroup.com/journal/paperinfo.aspx?journalid=155&doi=10.11648/j.ajss.20140205.13
Mandeep Singh (2010). Evaluation And Improvement Of Sports Techniques Through Biomechanical Updated Analyzing Technology, University News, Journal of Higher Education Association of Indian Universities, Association of Indian Universities, Vol:48:Issue.05;2010 Pp45-57, 2010
Mandeep Singh Nathial, A Study of Adjustment and Emotional Intelligence of University Coaches in India, American Journal of Applied Psychology. Volume 3, Issue 6, November 2014 , pp. 122-126. doi: 10.11648/j.ajap.20140306.11
Nathial, Mandeep Singh. A COMPARATIVE AND ANALYTICAL STUDY OF SELF-ESTEEM AND JOB SATISFACTION IN ATHLETES AND NON ATHLETES. Journal of Advances in Social Science and Humanities, 2(10).https://doi.org/10.15520/jassh210123
Singh, M., Kour, R., & Kour, A.,. A collaborative diversified investigation of respective responses of sports person coaches and organizations on criminalization of doping.International Journal of Health Sciences,6(S3), 11295–11310. https://doi.org/10.53730/ijhs.v6nS3.8641
Mandeep Singh., Assessment of Vocational Interests of Pahadi&Bakarwal School Students In Relation To Their Gender. Int J Recent Sci Res. 9(3), pp. 24817-24819. DOI: http://dx.doi.org/10.24327/ijrsr.2018.0903.1731
Dr. Mandeep Singh, 2017. "A study of awareness of inhouse doping errors among national level players and sports administrators in J&K state of India", International Journal of Current Research, 9, (01), 45226-45227. http://www.journalcra.com/sites/default/files/issue-pdf/20036.pdf
Mandeep Singh, 2019; "Effect of Mobile Screen Psychomotor Digital Image Motivators in Person Technique in Reducing Anxiety Level of Intervarsity Players of Cluster University Jammu, Blue Eyes Intelligence Engineering and Sciences Publication (BEIESP). Volume-9 Issue-1, October 2019, PP: 3750-3752, DOI: 10.35940/ijeat.A9811.109119. https://www.ijeat.org/portfolio-item/A9811109119/
Mandeep Singh. (2018). THE AWARENESS OF MOVEMENT AND FITNESS SCIENCES AMONG SCHOOL, UNDER GRADUATE AND POST GRADUATE LEVEL STUDENTS: EMPOWERING EDUCATION THROUGH PHYSICAL EDUCATION. European Journal of Physical Education and Sport Science, 4(3).https://doi.org/10.5281/zenodo.1218149
SINGH SIDHU, A., & SINGH, M. (2022). KINEMATICAL ANALYSIS OF HURDLE CLEARANCE TECHNIQUE IN 110M HURDLE RACE. International Journal of Behavioral Social and Movement Sciences, 4(2), 28–35. Retrieved from https://ijobsms.org/index.php/ijobsms/article/view/267
Singh, A., & Singh , D. M. (2013). PROMOTION OF RESEARCH CULTURE –ENHANCING QUALITY IN HIGHER EDUCATION. International Journal of Behavioral Social and Movement Sciences, 2(2), 202–208. Retrieved from https://ijobsms.org/index.php/ijobsms/article/view/152
SINGH, M., & SINGH SIDHU, A. (2016). A COMPARATIVE STUDY OF BODY COMPOSITION AND RELATIVE HEALTH STATUS AMONG RESIDENT AND NON-RESIDENT STUDENTS IN DIFFERENT SCHOOLS OF J&K. International Journal of Behavioral Social and Movement Sciences, 5(3), 08–13. Retrieved from https://ijobsms.org/index.php/ijobsms/article/view/320
Singh Nathial, D. M. (2012). ANALYZING THE CREDIT BASED SYSTEM IN PHYSICAL EDUCATION. International Journal of Behavioral Social and Movement Sciences, 1(3), 172–176. Retrieved from https://ijobsms.org/index.php/ijobsms/article/view/37
SHARMA, N. P., & SINGH, M. (2014). SENIOR AGE GROUP RELATIVE EXERCISES AND IMPACT ON THEIR LIFESTYLE. International Journal of Behavioral Social and Movement Sciences, 3(04), 78–82. Retrieved from https://ijobsms.org/index.php/ijobsms/article/view/246
CHAND PURI, P., MISHRA, P., JHAJHARIA, B., & SINGH, M. (2014). COORDINATIVE ABILITIES OF VOLLEYBALL IN DIFFERENT AGE GROUPS: A COMPARATIVE STUDY. International Journal of Behavioral Social and Movement Sciences, 3(3), 56–68. Retrieved from https://ijobsms.org/index.php/ijobsms/article/view/228
Dr.Mandeep Singh & J N Baliya, 2013; "A study of family stress among working and non-working parents", International Journal of Research in Social Sciences.Vol 2, 2. 194-201. https://indianjournals.com/ijor.aspx?target=ijor:ijrss&volume=2&issue=2&article=013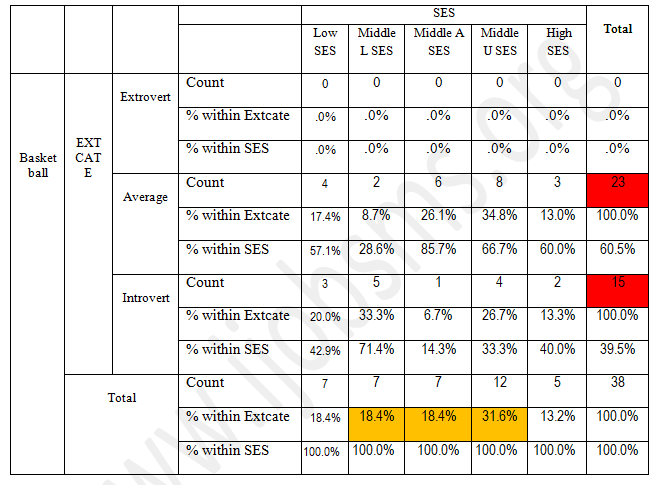 Additional Files
How to Cite
Pathania, R. (2023). Analytical study of Engineering Sports Person Personality (Extrovert / Introversion) and Socio-Economic status . International Journal of Behavioral Social and Movement Sciences, 12(03), 62–72. Retrieved from https://ijobsms.org/index.php/ijobsms/article/view/428