COMPARATIVE STUDY OF KINESTHETIC PERCEPTION BETWEEN HIGH SPORTS PERFORMANCE AND HIGH ACADEMIC PERFORMANCE GROUPS
Keywords:
Propioreceptors, Kinesthetic Perception, High Sports Performance Group and High Academic Performance Group.
Abstract
The kind of sense organs found within the muscles and joints are called proprioceptors. The function of propioreceptors is conduct sensory reports to the central nervous system from muscles, tendons, ligaments and joints. These sense organs are concerned with kinesthetic senses that, in general, unconsciously tell us where our body part in relation to our environment. The objective of this study was to determine the difference of kinesthetic perception between high sports performance and high academic performance groups. In this research Total sixty (N=60) healthy teenagers boys were randomly selected as subjects for the present study from Maun Nath Bhanjan district of Uttar Pradesh. As Kinesthetic is the sense of position, location and orientation so, it was measured by kinesthetic obstacles test. The Independent t-test was used for the kinesthetic perception comparison of both groups. The level of significance was set at 0.05. The results showed the significant difference between HSPG & HAPG.
References
Sadri, R.N (November, 1993) Promotion of sports: A Special Necessity Competition Success Review p.p.24-27.
Fox, L. Edward. Physiological Basis of Physical Education and Athletics (4 th edition) publisher Wm. C. Brown Publisher.
Sarkar, S. & Sarkar, S.G. (Sept, 2013). Comparative Study on Kinesthetic Perception between High Academic Achievement Group and High Sports Performance Group. International Global Research Analysis, volume: 2
Brown, Jim. (March 19, 2013). All about Proprioception. Retrieved from http://www.coreperformance.com/knowledge/training/all-about-proprioception.html.
Brandon, Morrison. (December 15, 2011). Kinesthetic Awareness & Proprioception Retrieved from http://liftbigeatbig.com/kinesthetic-awareness-proprioception.
Johnson, Barry L. & Nelson, Jackson k. (1988) Practical Measurements for Evaluation in Physical Education (3rd Edition) Delhi; Surjeet Publication; pp: 225-228.
Hatzitaki V, Zisi V, Kollias I, Kioumourtzoglou E, (June 2002.) Perceptual-Motor Contributions to static and dynamic balance control in children as cited in the paper of Singh, Pramod & Debnat,h Subir on Relationship of Visual and Nonvisual Kinesthesis to the Performance of Perceptual Motor Skills.
Andre, J. & Rogers S. (2006). Uses the verbal and blind-walking distance estimates toinvestigate the two visual system hypotheses Percept Psychophys.; 68(3):353-61
Kinesthetic learning (August 28, 2015). Retrieved on August 30, 2015 from the OLPC Wiki:https://en.wikipedia.org/wiki/Kinesthetic_learning
Mandeep Singh Nathial, Analysis of set shot in basketball in relation with time to perform the course and displacement of center of gravity, American Journal of Sports Science, Vol.2 Issue.5 pp: 122-126 (2014). Retrieved from https://www.sciencepublishinggroup.com/journal/paperinfo.aspx?journalid=155& doi=10.11648/j.ajss.20140205.13
Mandeep Singh (2010). Evaluation And Improvement of Sports Techniques Through Biomechanical Updated Analyzing Technology, University News, Journal of Higher Education Association of Indian Universities, Association of Indian Universities, Vol:48:Issue.05;2010 Pp45-57, 2010
Mandeep Singh Nathial, A Study of Adjustment and Emotional Intelligence of University Coaches in India, American Journal of Applied Psychology. Volume 3, Issue 6, November 2014, pp. 122-126. doi: 10.11648/j.ajap.20140306.11
Nathial, mandeep singh. A COMPARATIVE AND ANALYTICAL STUDY OF SELF-ESTEEM AND JOB SATISFACTION IN ATHLETES AND NON ATHLETES. Journal of Advances in Social Science and Humanities, 2(10). https://doi.org/10.15520/jassh210123
Singh, M., Kour, R., & Kour, A., A collaborative diversified investigation of respective responses of sports person coaches and organizations on criminalization of doping. International Journal of Health Sciences, 6 (S3), 11295–11310. https://doi.org/10.53730/ijhs.v6nS3.8641
Mandeep Singh., Assessment of Vocational Interests of Pahadi & Bakarwal School Students In Relation To Their Gender. Int J Recent Sci Res. 9(3), pp. 24817-24819.
DOI: http://dx.doi.org/10.24327/ijrsr.2018.0903.1731
Singh, M., & Deol, N. S.; KINEMATICAL ANALYSIS OF HIGH DRIVE IN SOCCER. INTERNATIONAL JOURNAL OF RESEARCH PEDAGOGY AND TECHNOLOGY IN EDUCATION AND MOVEMENT SCIENCES, 1(01). Retrieved from https://ijems.net/index.php/ijem/article/view/5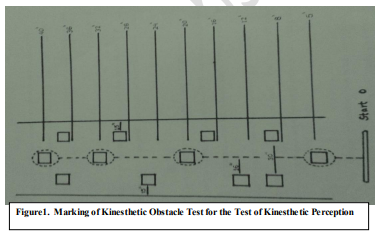 Downloads
How to Cite
GAYATRI, P. (2016). COMPARATIVE STUDY OF KINESTHETIC PERCEPTION BETWEEN HIGH SPORTS PERFORMANCE AND HIGH ACADEMIC PERFORMANCE GROUPS. International Journal of Behavioral Social and Movement Sciences, 5(4), 31–39. Retrieved from https://ijobsms.org/index.php/ijobsms/article/view/329