EFFECTS OF EIGHT WEEKS PRE-SEASON PREPARATION TRAINING PERIOD ON THE PHYSICAL AND PHYSIOLOGICAL PROPERTIES OF FOOTBALL PLAYERS
Keywords:
Physiology, Football and preparatory Training.
Abstract
This research was aimed to determine the effects of eight weeks pre-season preparation training period on the physical and physiological characteristics of football players. Thirty football players were acted as subjects for this study. Their ages were 19.5 ± 1.46 years old, and they had 4.3 ± 1.2 years of training. Their height was 167.7 ± 4.12 cm. The body weight, body fat percentage, flexibility, systolic/diastolic blood pressure, aerobic capacity, vertical jump, and speed of these players were tested twice; once at the beginning of the eight-week pre-season preparation training period and again at the end of the training period. Research data was evaluated statistically with paired-t test at a significance level of (p‹ 0.05). Significant changes were found in weight, body fat percent, systolic/diastolic blood pressure, aerobic capacity, anaerobic power, and vertical jump but no significant changes were found in elasticity and speed.
References
Acikada, C. O., Hazir, A. & Asci, T. (1996), "The effect of pre-season preparation training on some strength and endurance characteristics of a football team" Journal of Football Science and Technology 1.3 (4) Ankara
Adams, G. M. (1990), "Exercise Physiology Laboratory Manual" Dubuque: WMC Brown Publishers
Bangsbo (1994), "Football Physical Condition Coordination Training" (H. Gunduz, Trans) Istanbul: TFG Publishers
Bompa, T.O. (1998), "Theory and Methodology of Training" (I, Keskin & A.B.Tunur, Trans) Ankara: Bagirgan Publishers
Bosco, C., Tihanyi, J. & Latteri, F. et al (1986), "The Effect of Fatigue on Stired and Re-use of Elastic Energy in Slow and Fast Types of Human Skeletal Muscles" Acta Physiol Scand
Burke, L. M., Gollan, R.A. & Read, R.S. (1986), "Seasonal changes in body composition in Australian rules footballers" British Journal of Sports Medicine, 20
Islegen, C (1987), "Physical and physiological profiles of professional football teams of different leagues" Journal of Sports Physicians, 22
Kandeydi, H. & Ergen, E. (1984), "A comparison of physical and functional characteristics of students from departments of physical training and sports vs. medicine" Journal of Sports Physicians, 19 (1)
Kartal, R. & Gunay, M (1994), "The effect of preseason preparation trainings on some physical parameters of footballers" Journal of Sports Sciences, 5(3)
Mercer, T.H. & Payne, W.R. (1992), "Fitness Profiles of Professional Soccer Players Before and After Preseason Conditioning" Division of Sports, Health and Exercise, UK
Ostojic, S. M. & Zivanic, S (2001), "Effects of training on anthropometric and physiological characteristics of elite Serbian soccer players" Acta Biologie et Medicinae Experimentalis, 27(48)
Renklikurt, T (1991), "Transition and preparation period basics and its application in Turkey" Journal of Trainers' Voice, Tufad (1)
Siders, W.A, Bolonchuk, W.W. & Lukaski, H.C. (1991), "Effects of participation in a collegiate sport season on body composition" Journal of Sports Medicine and Physical Fitness, 31
Tamer K. (1995), "Sports Measurement and Evaluation of Physical and Physiological Performance" Ankara: Turkerler Book Store
Mandeep Singh Nathial, Analysis of set shot in basketball in relation with time to perform the course and displacement of center of gravity, American Journal of Sports Science, Vol.2 Issue.5 pp: 122-126 (2014). Retrieved from https://www.sciencepublishinggroup.com/journal/paperinfo.aspx?journalid=155& doi=10.11648/j.ajss.20140205.13
Mandeep Singh (2010). Evaluation And Improvement of Sports Techniques Through Biomechanical Updated Analyzing Technology, University News, Journal of Higher Education Association of Indian Universities, Association of Indian Universities, Vol:48:Issue.05;2010 Pp45-57, 2010
Mandeep Singh Nathial, A Study of Adjustment and Emotional Intelligence of University Coaches in India, American Journal of Applied Psychology. Volume 3, Issue 6, November 2014, pp. 122-126. doi: 10.11648/j.ajap.20140306.11
Nathial, mandeep singh. A COMPARATIVE AND ANALYTICAL STUDY OF SELF-ESTEEM AND JOB SATISFACTION IN ATHLETES AND NON ATHLETES. Journal of Advances in Social Science and Humanities, 2(10). https://doi.org/10.15520/jassh210123
Singh, M., Kour, R., & Kour, A., A collaborative diversified investigation of respective responses of sports person coaches and organizations on criminalization of doping. International Journal of Health Sciences, 6 (S3), 11295–11310. https://doi.org/10.53730/ijhs.v6nS3.8641
Mandeep Singh., Assessment of Vocational Interests of Pahadi & Bakarwal School Students In Relation To Their Gender. Int J Recent Sci Res. 9(3), pp. 24817-24819.
DOI: http://dx.doi.org/10.24327/ijrsr.2018.0903.1731
Singh, M., & Deol, N. S.; KINEMATICAL ANALYSIS OF HIGH DRIVE IN SOCCER. INTERNATIONAL JOURNAL OF RESEARCH PEDAGOGY AND TECHNOLOGY IN EDUCATION AND MOVEMENT SCIENCES, 1(01). Retrieved from https://ijems.net/index.php/ijem/article/view/5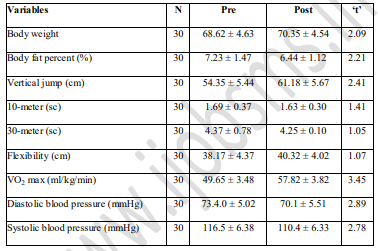 Downloads
How to Cite
LOHAN, D. A., & LEGA, D. S. (2022). EFFECTS OF EIGHT WEEKS PRE-SEASON PREPARATION TRAINING PERIOD ON THE PHYSICAL AND PHYSIOLOGICAL PROPERTIES OF FOOTBALL PLAYERS. International Journal of Behavioral Social and Movement Sciences, 4(2), 22–27. Retrieved from https://ijobsms.org/index.php/ijobsms/article/view/266